---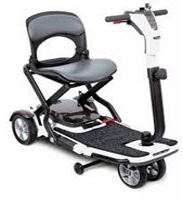 Pride Quest Folding Travel Scooter
Sold Out - Contact Store To Order
---
https://www.pridemobility.com/pdf/brochures/australia/au_questfoldingscooter_ss.pdf
The Pride Quest Folding Scooter is ready for transport and easily folded, therefore perfect for the active lifestyle.
Features
Super portable and a great space saver that adjusts to fit perfectly inside any closet, corner or vehicle trunk.
The Quest Folding Scooter is sleek, stylish and extremely easy to operate.
Unique folding design.
Folds in just three easy steps.
Adjustable tiller.
Easy to transport at home, hotels or airports.
Articulated front end adds greater stability.
Front and rear LED lights.
Up to 25 km (12.5 miles) range per charge.
Can be slowed upright or laid down.
Specifications
Maximum weight capacity: 115 kg (250lbs)
Maximum speed: Up to 6 km/h (4mph)
Ground clearance:  6 cm (2.3")
Turning radius: 82 cm (32")
Overall length: 93 cm (37")
Overall width:  48.5 cm (19")
Drive wheels: 5cm x 20cm (2" x 8") solid
Front wheels: 4cm x 18cm (1.6" x 7") solid
Range per charge: Up to 20km (12.5 miles)
Total weight without batteries: 23.5kg (51.4lbs)
Battery requirement: 1 x 24 volt (Lithium-ion), weight 2.35kg
Heaviest piece when disassembled: 23.5 kg (51.4 lbs.) (unit does not disassemble)
Material: Gray VinylDimensions: 41 cm x 33 cm (16" x 13")
Size: (1) 11.5 AH (lithium-ion)
Weight: 11.5 AH lithium-ion- 2.3 kg (5 lbs.) each (1 required)
Battery charger: 2.5-amp, off-board
Colour: White
Varies with user weight, terrain type, battery amp-hour (AH), battery charge, batter, condition and tire condition. These specifcations can be subject to a variance of (+/- 10%).
Due to manufacturing tolerances and continual product improvement, this specifcation can be subject to a variance of (+ or - 3%). 3 AGM or gel cell type required.
Tested in accordance with ANSI/RESNA, WC Vol2, section 4 & ISO 7176-4 standards
Battery weight may vary based on manufacturer.